Greeting
From "Wrapping things" to "Wrapping the environment"
Flourishing the future of packaging in the 21st century
Since our establishment in 1951, our basic stance has remained unchanged, "To commercialize and deliver better packaging materials faster than anywhere else." However, nowadays, as market needs mature, and the IT revolution and the Internet drive the internationalization and speed of business faster, packaging is required to become more sophisticated and complex while maintaining a high level of performance.
Furthermore, as all production and consumption activities have an impact on the global environment, the need to build a recycling-oriented society is crucial, and each company is required to make further efforts in this regard. The future of package production is an era of quality, speed, and being environmentally conscious. It is no exaggeration to say that the future of packaging production depends on the ability to respond to environmental issues in a concrete and steady manner.
From the perspective of corporate social responsibility and global environmental conservation, Daiwa Pax CO., LTD. was the first in the industry to acquire ISO 14001 certification for environmental management at all of its business sites. In terms of processing, Daiwa Pax CO., LTD. has been proactively working to realize water-based gravure printing and to establish manufacturing technologies that are safer for food and more environmentally friendly.
On the occasion of the 70th anniversary of its founding, Daiwa Pax CO., LTD. will, once again, return to the basics in the spirit of its founding, and provide a valuable packaging culture for the 21st century as a company that satisfies its customers, and is absolutely necessary to society. We look forward to your continued support and patronage.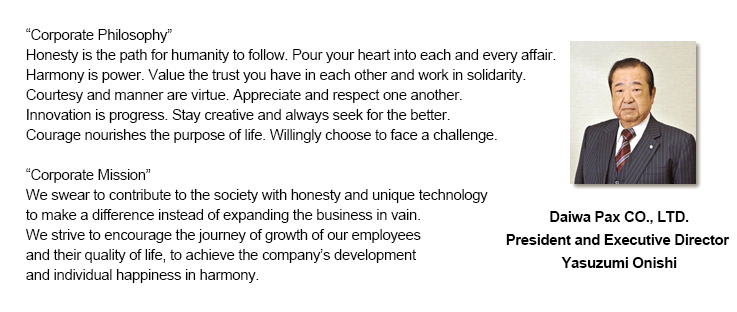 Clean&Green
Embrace People and the Earth with love
more, and forever
Today, every production and consumption activity has an impact on the global environment, and packaging needs to be not only low-cost, highly efficient, and multifunctional, but also environmentally friendly. Daiwa Pax CO., LTD. creates a valuable packaging culture that values the spirit of wrapping.
Having "Clean & Green", and "Environment conservation" as mottos of the 21st century, we offer you a richer variety of packaging, to embrace the human and the Earth to the next generation and beyond.